Welcome to APPEntrepreneurship
---
The
Apparel Entrepreneurship
App
---
Your go-to source for building and scaling a successful and profitable apparel business.
APPEntrepreneurship makes your life as an apparel entrepreneur easier. Helping you stay focused, get organized, save time, achieve set goals, and increase your revenue.
For daily inspiration, motivation, and education – listen to the AE Podcast, read industry content, and watch live video sessions.
Visit the Apparel Entrepreneurship website to learn more:
Ana Kristiansson, Co-Founder
BFA in Fashion Design from Parsons School of Design in New York & Paris.
20 years of experience in the apparel industry.
Designed and product developed award-winning products for international outdoor brands.
Launched and run 2 own brands.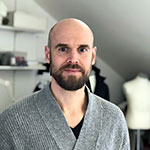 Klas Kristiansson, Co-Founder
MSc in Digital Communication from the Royal Institute of Technology Stockholm & ENST Paris.
20 years of experience from working with sales, marketing, e-commerce, project management, and business development.
Launched and run 2 own brands.
We educate and empower apparel entrepreneurs around the world to start, run, and grow profitable, meaningful, and successful clothing brands.
We are the founders of the online educational platform, Apparel Entrepreneurship.
We host the Apparel Entrepreneurship Podcast.
We are authors of the book Apparel Entrepreneurship – How To Successfully Start & Run A Clothing Brand.
We are apparel brand strategy consultants.
We are also the founders of Desinder.com, a connecting platform for brands and freelance designers worldwide.
Alongside A.E. and Desinder, we've also been running a Technical Apparel Design Agency for 12 years – working with mid – big sized brands on design, product development, strategy, innovation, and sustainability implementation.
This is how we stay up to date with the latest in the industry. We are in the trenches every day. We make it a priority to stay in the know, so we can give YOU the best strategies and resources to grow your business.